Back to all posts
Posted on
Spotlight Piece - Namao Alumni Caelum Hartman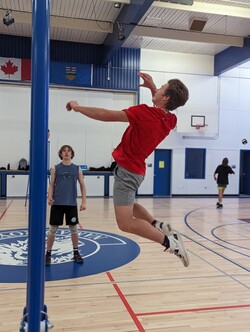 Caelum Hartman: Inspiring the Next Generation on and off the Court
Namao School recently experienced a heartwarming reunion as distinguished alum, Caelum Hartman, returned to lead a volleyball clinic for our Junior and Senior Boys' teams. Caelum, currently a third-year chemistry major and setter for the Augustana University volleyball team, took time from his busy schedule to give back to the school that played a crucial role in shaping his passion for both sports and science.
While at Namao, Caelum was named Athlete of the Year in Grade 9 and helped lead his teams to win two banners; one in volleyball and one in golf. In 2021, he also helped coach the Namao volleyball team, where we won another banner!
His journey after leaving our halls is nothing short of impressive. As he excels in his studies, Caelum hopes to become a radiologist where he can make a meaningful impact for individuals battling cancer treatment. Caelum credits Ms. Shute for igniting his passion for science and inspiring him to pursue a degree in chemistry.
We are so grateful to have such amazing alumni who come back and volunteer their time, thank you Caelum!