Namao School does not have a Pre-Kindergarten program.
Kindergarten
The Kindergarten program at Namao School is widely recognized for its holistic approach to early education. We provide a nurturing and stimulating learning environment for young children, emphasizing the development of the whole child. Our curriculum is aligned with Alberta standards while accommodating each student's unique needs. Our program aims to instill a love of learning and nurture children's social, emotional, cognitive, and physical growth. 
Our teachers are highly qualified, experienced, and dedicated to helping children reach their full potential. They employ hands-on, play-based activities and project-based learning to keep students engaged and excited about learning. Our program includes special activities such as community connections, field trips, in-class field trips, music, art, and physical education. Our classrooms are enhanced with interactive technology regularly incorporated into the learning experience. 
At Namao School, we emphasize parent involvement and encourage regular communication with parents to ensure that each student's learning needs are being met. Consistent communication between home and school enhances our kindergarteners' educational experience. We also welcome caregiver involvement in our Kindergarten classrooms. 
Program Foundations
Children who are well-prepared academically and socially at a young age perform better throughout their education. We focus on the following:
Early literacy and numeracy skills 
Challenging and stimulating learning practices 
Learning through play 
Hands-on and project-based learning
Collaboration and creativity 
Our Kindergarten Program provides children with a foundation for their education and sets them on the path of success. 
Supplementary Program - Open Air Kindergarten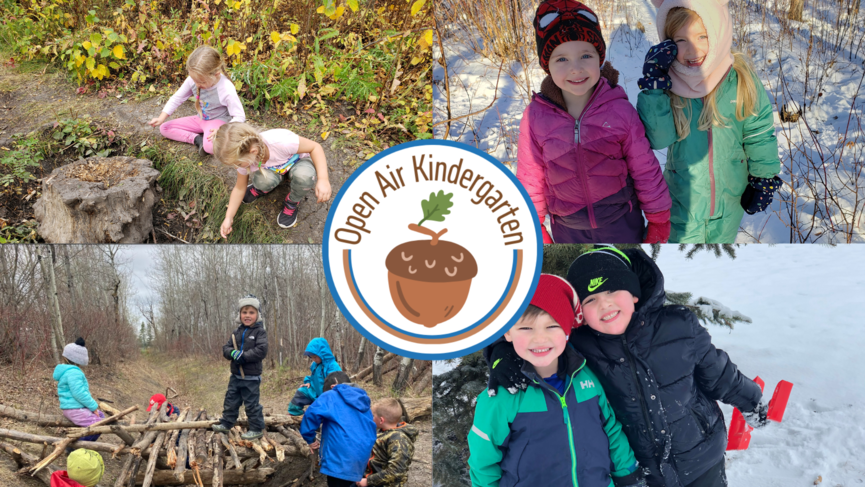 Open Air Kindergarten (OAK) supplements our regular Kindergarten program. It will run on opposite days to allow students to attend Kindergarten programming Full Days, five days a week. 
Like our regular stream, this program follows the Alberta Curriculum. OAK is unique because it also incorporates daily enriching outdoor learning experiences. Students engage in hands-on, experiential activities that allow them to explore and learn about the natural world. Classroom instruction is enhanced by daily visits to natural areas, providing students with the opportunity to apply their learning in real-world settings. This program offers a well-rounded education that allows students to develop a love of learning, a connection to the natural world, and the skills and knowledge they need to succeed in school and beyond.
Children exposed to the outdoors are more likely to be happier and have more energy, increased confidence, autonomy, and self-awareness. Daily outdoor learning provides:
Overall wellness: mental and emotional health 
Social health and teamwork 
Physical health and movement skills
Resilience and risk management skills 
Improved focus at school 
Overview of Program Options
Kindergarten Option
Regular Kindergarten
Regular Kindergarten + Open Air Option
Program
Full Days, Alternating Days
Full Days, Every Day
Days

Monday/Wednesday & alternating Fridays

OR

Tuesday/Thursday & alternating Fridays

5 Days a Week - Excluding PD Days
Class Times
8:40AM - 3:05PM
8:40AM - 3:05PM
Cost
No cost a this time. 

$320/Month

Limited Spots